WOMEN'S SKIN COOLER FULL ZIP TOP*
 WFVSC1
Our Women's Skin Cooler Short Sleeve Tri Top was designed with features to support a full day of training or racing in stylish, feminine comfort. 
Sizing: Please refer to the size chart button above for sizing guidance. 
Fit Type: Form-Fitted
Fit Note: Please do not assume your size is the same as previous years, please use our size chart and if in doubt, email us at: femme@desotosport.com. Triathlon apparel is meant to fit next-to-skin. This is to eliminate potential chafing, and unnecessary drag during the swim, bike and run. If you're not comfortable with this type of fit and or are between sizes, we recommend sizing up. Garment will fit the most snug the first time you put it on, it will relax slightly once wet. 
Features and Benefits:
Composed of Skin Cooler™  buttery, soft fabric which provides UVB sun protection and creates a cooling sensation when wet or with sweat; keeping you cool and comfortable mile after mile
Lightweight, moisture wicking Skin Cooler Octovent™  fabric on front panel for breathable cooling comfort
Neckline contours the collar bone creating a  flattering appearance and comfortable fit 
3 back pockets to store your training or racing essentials
Full front YKK® zipper allows adjustable ventilation
1.5" inch scalloped back tail hem to ensure full coverage while in the riding position
Flatstitch seams eliminate potential chafing
Reflective logos for increased low-light visibility
No elastic hem ensures this jersey drapes beautifully over the body eliminating the potential tourniquet look
The Skin Cooler™ sleeves extend over the deltoids and are perfect to wear with our Arm Coolers (ACSC)
This item is not designed for repeated use as a swim suit in a chlorinated pool
Designed and created by women
Made in the USA
What makes ours different?  Our Skin Cooler fiber is designed to feel and perform like silk (from a silkworm).  Through Biomimicry, we took the virtues of this natural fiber and created a synthetic silk.  It will keep you cool in hot weather and cooler when it is wet.  Put it on and you will instantly feel the cool sensation.  Wet it and you will notice a drop in the surface temperature of the skin between 7 and 10 degrees.
A MEDICAL TESTIM0NIAL:  We received this letter from a respected Dermatologist and Mohs Surgeon:
 I am an avid runner and triathlete and I recently discovered your Skin Cooler products, of which I'm a huge fan.  I have been wearing them for a few months now and couldn't be happier.  I am a dermatologist and Mohs surgeon.   Every patient I see is plagued by basal cell carcinoma, squamous cell carcinoma, or melanoma.  I recommend your products to my active patients on a daily basis.  It allows them to continue their active lifestyle while protecting themselves from the sun. I find your product to be far superior to all other cooling and sun protective lines.  I truly appreciate your efforts and innovations.
Note:
No garment should ever be a substitute so we always recommend you wear sunscreen underneath these, and all, products. It is crucial to keep in mind that a sunscreen's (whichever brand you may choose) SPF/UPF rating refers only to its ability to protect skin from UVB radiation. Because we know that UVA damage can be just as insidious, it is essential for the health of your skin that you use a sunscreen that contains the UVA-protecting ingredients of titanium dioxide or zinc oxide.
PRODUCT CODE:  WFVSC1
Customer Reviews
08/26/2019
Tiffany F.

United States
I Love De Soto Sport!
The most comfortable top I own. It is well made and will last a long time. I had two pair of shorts and though I have bought other brands over the years, these have lasted the longest and are the most comfortable. I will continue to be a loyal customer.
06/24/2019
Barbara C.

United States
skin cooler shirt has saved me from heat exhaustion more than once
Awesome. I wear it every week now. I'm training for IM Whistler on July 28th which means I am training in the heat here in Texas. I now own 3 of your skin cooler tops and I love them! This past weekend I had the group of cyclists feel my stomach b/c it was cold when it was crazy hot outside. I'm amazed and so thankful I stumbled on these products!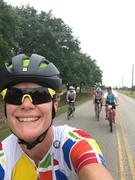 WOMEN'S SKIN COOLER TRI TOP - SHORT SLEEVE*
I absolutely love the look and feel of this top, unfortunately the weather in the UK is hindering the opportunity to get out and wear it! Can't wait for some warmer weather - one thing is for sure I am going to stand out in the crowd
So comfortable!
DeSoto Sport designers pay attention to the small details. The neckline doesn't choke while in aero position, the hem is long enough to cover your back, and the material is silky while keeping you COOL and comfortable during your ride! Love having 3 pockets on the back!
Best Top ever
The size is perfect, I love the colours, they look even better in reality.