400-MILE™ CYCLING BIB SHORT - Sale
Please Note - EXCHANGES ACCEPTED, BUT NO REFUNDS. These are discontinued models at discounted prices, therefore we will accept exchanges within 3 days of receiving it, for a different sizes or model, based on availability. We permit this if you have only tried the product on for fit, and have not exercised in it.
This is the bib you want with the original 400-Mile™ pad that has made this our single best-seller. 

Emilio gave these bicycling shorts and bibs the "400-Mile" name from product testing consisting of 400 miles over 4 days. His logic was that many shorts feel fine for 100+ mile rides. The real question is how does that saddle feel when you get on the bike the next morning for another 100 miles...and the next morning? This was the inspiration for the design, the pad, and the name.
 Sizing: Please refer to the size chart button above for sizing guidance. 
Fit Type: Compressive
Fit Note - Customer feedback suggests ordering one size down from your DeSoto Trisuit size. The 400-Mile™ Cycling Bib Short is not as compressive as our Forza Trisuit. If in doubt email us at contact@desotosport.com
New Features:
We sewed the 14mm

400-Mile Pad™ Pad into the short, versus on top of the short. This allows the pad to stretch more, and float; which means it can be used as a race piece in a triathlon. On the bike, the pad stretches with the short and follows your skin as it moves with every pedal stroke, eliminating the friction that can cause irritation or rashes.
Seamless inner thigh eliminates friction against the saddle and thighs
Favorite Features Remain

:
13-panel bib short made of Forza Compressor fabric ensures a perfect fit, and targeted muscle support 
3-inch Mobius™ Comfort Compression leg bands keep shorts in place without excess squeezing (no elastic!)
Liquid Mesh™ bibs straps keep you cool
Midsection Support – Our bibs come up a bit higher on the sides than other brands, to cover and tuck in obliques and abdomen. This provides a slimmer appearance and nice support around the mid-section.
3 pockets: one on each outer thigh and one center back pocket that fit cell phones, smart phones, fuel packets, and most sunglasses
Curvilinear™ seamlines and contrast flatstitch highlight panel construction, create an attractive appearance and are extremely durable
Environmentally-friendly and completely free of solvents
Not recommended for repeated use in a chlorinated pool
Made in USA
WHAT ARE THE DIFFERENCES BETWEEN THE 400-MILE BIB SHORT AND THE MOBIUS CYCLING BIB?
The Fabric:
The 400-Mile Cycling Bib is made of Forza Compressor Fabric with Liftfoil3 center panels - this fabric offers a nice snug compression for the ultimate benefits of muscle support, in delay of onset of fatigue and accelerated recovery.
The Mobius Cycling Bib is made of Mobius Comfort Compression Fabric throughout - this fabric is a little more stretchy, but it still offers some support and compression benefits.
Similarities:
The 400-Mile Pad on both of the above is 14mm thick
Both Bibshorts have the same pockets in 3 locations
Both Bibshorts have same 3-inch leg bands made of Mobius Comfort Compression which eliminates the "sausage leg" squeeze found in other brands.
Inseam lengths:
Note  - Shorter Leg Length than other brands: Have you seen the length of the shorts that riders have been wearing in Europe lately, especially in the Grand Tours? As opposed to most brands here in the states, which come just above the knees, our 400-Mile Shorts are comfortably shorter. Our inseam is similar to those currently used by the pros in the Grand Tours. They have no gripper elastic, yet stay in place and do not bind or squeeze the legs.
     Small: 8.75" (22.23cm)
     Medium: 9.25" (23.5cm)
     Large: 9.75" (24.77cm)
     XLarge: 10.25" (26.04cm)
     XXLarge: 10.75" (27.31cm)
     2XL available in Solid Black only
PRODUCT CODE:  XBB3
Customer Reviews
100
reviewers would recommend this product
Write a Review
01/22/2023
DEREK B.

United States
Simply The Best
I bought these for some added cushion on long rides while training for Ironman Tulsa. They probably have a bit much cushion for long runs off the bike although I have done some short runs off the bike with no issue. I always appreciate Emilio and his team's dedication to a solid product that holds up over time.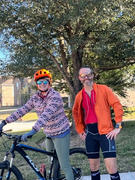 04/14/2022
Darin C.

United States
I recommend this product
Go 2 shorts - 400mile
These are my 3rd set of shorts and bibs. They may seem pricey, but after trying other brands I keep coming back to the 400-mile. They far outlast in both quality and comfort. Over the long haul it's just more economical to buy these. They are great for long long days in the saddle on the road or in the gravel.
11/01/2021
Tim M.

United States
Wow
Wow these are the best cycling bibs ever. Perfect weight, great compression and fit. And the pad, oh the backside appreciated it after 114 miles. Never felt better in any IM before
05/16/2021
Anonymous

United States
I recommend this product
400-mile bib
Excellent. No chamois cream required. Comfy on long rides.
02/22/2021
Randy G.

Canada
I recommend this product
400 mile bib short
Easy to find on ling, easy to assess... they are a bit on the big side and NOT the great compression I am use to in the Forza shorts... I do like the side pockets for gel etc. I am always a great fit with the large Desoto bike shorts but these are a tad too loose and not supportive. (good fit but not the same as others). I would definitely go with a size down... wish I would have got mediums and I am 5'11", 210 lbs and 35inch waist... Large just feel too big (noticeably).