Leg Coolers made of Skin Cooler 90*
The same concept that has made our Arm Coolers one of our biggest selling products is now available for your legs! Skin Cooler™ is a special moisture-radiating material that actually offers a cooling effect. They are guaranteed to keep you cooler in training and in racing than not wearing anything. If you do not find this to be true, return them for a complete refund!
Skin Cooler™ 90 Stretch fabric block 90% UVB rays, breathable, cooling, silicone gripper elastic on upper leg.
Skin Cooler 90™ 
When the human body gets hot, it sweats to cool itself. In the past, other brands have tried to help that process by developing fabrics that wick moisture away from the skin and expedite evaporation. For over 10 years now, De Soto has taken this concept a step further by using that moisture to create a cooling effect. YES! WE WANT YOU WET. Skin Cooler™ works by a series of channels knitted into light fabric. As these channels get wet, they absorb moisture and swell, which dissipates the heat making the fabric against your skin actually cooler. How much cooler depends on factors including airflow, humidity, ambient temperature, and moisture temperature. When you sweat, the garment's temperature drops and creates an actual cooling sensation. Skin Cooler 90™ offers this cooling effect while offering even more sun protection.
What makes ours different?  Our Skin Cooler fiber is designed to feel and perform like silk (from a silkworm).  Through Biomimicry, we took the virtues of this natural fiber and created a synthetic silk.  It will keep you cool in hot weather and cooler when it is wet.  Put it on and you will instantly feel the cool sensation.  Wet it and you will notice a drop in the surface temperature of the skin between 7 and 10 degrees.
A MEDICAL TESTIM0NIAL:  We received this letter from Dermatologist and Mohs Surgeon Dr. Michael Bax.* 
 I am an avid runner and triathlete and I recently discovered your Skin Cooler products, of which I'm a huge fan.  I have been wearing them for a few months now and couldn't be happier.  I am a dermatologist and Mohs surgeon at Roswell Park Cancer Institute in Buffalo, NY.  Every patient I see is plagued by basal cell carcinoma, squamous cell carcinoma, or melanoma.  I recommend your products to my active patients on a daily basis.  It allows them to continue their active lifestyle while protecting themselves from the sun. I find your product to be far superior to all other cooling and sun protective lines.  I truly appreciate your efforts and innovations. 

Michael Bax, MD 
Roswell Park Cancer Institute 
Scott Bieler Clinical Science Center 
Buffalo, New York
***Dr. Bax has no financial investment in De Soto Sport and was not solicited nor compensated in any way for his letter.
Note: No garment should ever be a substitute so we always recommend you wear sunscreen underneath these, and all, products. It is crucial to keep in mind that a sunscreen's (whichever brand you may choose) SPF/UPF rating refers only to its ability to protect skin from UVB radiation. Because we know that UVA damage can be just as insidious, it is essential for the health of your skin that you use a sunscreen that contains the UVA-protecting ingredients of titanium dioxide or zinc oxide.
PRODUCT CODE:  LCSC
Available only on our website.
---
We Also Recommend
---
Customer Reviews
09/30/2020
Jeffrey D.
United States
Cool and Comfortable
Just as advertised. UV protection + keeps you cool when the temperatures rise.
08/20/2020
Maryclaire
United States
5* for fit & cooling - more colors!!
I bought these for biking and love how the leg sleeves fit perfectly, stay up without compression & don't slide down. However, I really wish these came in at least 1 other color than white or black. Black is too hot for summer riding. And, well, someone joked that I looked like a nursing home escapee... Yikes. I'm not THAT old and average 15-17 mph over 40+ miles. Can DeSoto please make these leg sleeves in that cool-looking silver/white pattern you have in the arm shrugs?? Thanks.
08/06/2020
Anne W.
United States
Almost as wonderful as the arm coolers
The quality of the fabric, design, and workmanship is perfect. They are the first leg sleeves I have worn that stay up without any adjustment. I don't love them as much as my boleros only because they don't have as much cooling effect as my arm coolers. I wear a bolero every time I ride in the summer. I wear the leg coolers only when it's sunny.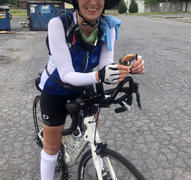 08/02/2020
Matthew L.
United States
5th pair
This is my 5th pair of leg coolers. I've tried other brands and knockoffs. Nothing works as well as De Soto leg cooler. In the heat of the summer, a bit of water keeps the legs cool. The leg grips keep them securely in place.
07/17/2020
Anonymous
United States
Will never run without it
It is comfortable and give me the extra sun protection while keep me cool. Highly recommended!
SIZING INFORMATION 

| | | |
| --- | --- | --- |
| | Length - Laying Flat | Top Opening |
| Small | 14.5" (53 cm) | 14.5" (37 cm) |
| Medium | 23" (58 cm) | 16" (41 cm) |
| Large | 25" (63.5 cm) | 17.5" (44.5 cm) |
 

Liquid error: Could not find asset snippets/size-chart.liquid ,"aggregateRating": { "@type": "AggregateRating", "ratingValue": 5, "reviewCount": 8 }