FJ3
Order Note:  Limited stock on certain colors & sizes. Items not in stock will ship within 2 weeks of the date of your order.
Tested in the French Alpes surrounding Europe's tallest peak, Mont Blanc, and known for high altitude & ultra-distance trail running, the Chamonix Fleece (pronounced:  Sha-mo-nee) is the perfect thermal layer to keep you just as warm as wool without all the bulk and weight.  The Polartec® Power Stretch® fabric provides a stretchy feel that is perfect for many sports beyond just running and cycling, including nordic and alpine skiing, snowboarding, golf, tennis, and hiking. 
Sizing: Please refer to the size chart button above for an accurate fit. 
Fit Type: Form fitting but not skin tight.
Fit Note: Please do not assume your size, please use our size chart. If in doubt, email questions to contact@desotosport.com. 
Features & Benefits: 
Made of Polartec® Power Stretch®

 fabric is highly breathable and doesn't restrict movement of moisture vapor. "Touch Points" on the fabric inner surface work to wick sweat off the skin to the outside of the fabric, where it rapidly evaporates. Body-hugging, 4-way stretch allows unrestricted movement. The tight knit makes this fabric wind resistant, and provides warmth without the weight of traditional insulating fabrics.

Long length sleeves with thumb holes for added warmth to the hands.
YKK full front zipper for durability as well as easy in donning and removing.
Relaxed neck design eliminates zipper rubbing when zipped up. 
Neck collar is lined with MicroSurf™ Stretch for added wind resistance and a smooth neck surface.
Left chest pocket made of MicroSurf ™ Stretch, with 7" YKK zipper large enough to hold sunglasses and large-sized smartphones.
Made in the USA
Customer Reviews
01/15/2022
Daniel R.

Canada
I recommend this product
Second One
I love this jacket, it is my second one and I use it all winter long. The jacket fits and feels amazing and keeps my body temperature even. Perfect for the cold winters we have here in the North.
04/23/2021
Jordan L.

United States
I recommend this product
Unbelievably great
As usual, extremely happy with DeSoto. Awesome fit, great materia as warm as can be. Opted for a subtle pattern and can wear all the time. Great work!!! Definitely buy one if available
04/01/2021
Kevin S.

United States
I recommend this product
Definitely Get One
Another great Desoto product. Fits great. Very warm on the bike with temperatures in the 20's. You don't feel the wind either. Love it. Thanks
11/29/2020
tom h.

United States
I recommend this product
Garment choices
Garment choices are key when it comes to wanting comfort and performance. The El Capitan Trail had everything. Morning temperatures at 24 degrees, in the first 3 miles I was drenched in sweat climbing 3,000 vertical feet straight up, I then hit 5 miles of snow and temperatures back in the 20's to greet beautiful sunshine at the summit. Emilio De Soto's De Soto Sport & Mask Company's CHAMONIX FLEECE JACKET & POLYPRO THERMAL TOP was absolutely the right call. Never cold, wet (from sweat) and they are extremely light and allowed me to move quickly, not feeling like I was bogged down. Thank you for helping me accomplish one of my better days I can remember!!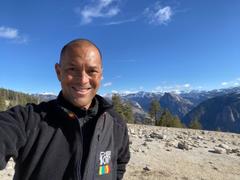 01/30/2020
Bonnie

United States
GREAT JACKET.
Out of the blue the other day my husband said, "that jacket is a great jacket". After determining he was speaking of the DeSoto fleece jacket I recently purchased for him. I queried him as to why he made that statement and he said the fabric is so soft and the fit is perfect. He is 6'1" and weighs 195. We bought the large. He has not had the opportunity to use it on the mountain bike trails yet as he is recovering from knee surgery. I am such a DeSoto advocate and was happy I could get this jacket for him. I love my fleece pants and wear them constantly for my winter runs. Thank you.