SKIN COOLER FULL ZIP TOP - SALE
 XFVSC
Regular Price: $140.00
All Sales Are Final.  Please read before buying Click Here
This is our most technologically advanced top and the best money can buy. It has a blend of two very light fabrics with the entire back and sleeves made of our Skin Cooler 90. 
Sizing: Please refer to the size chart button above for sizing guidance. 
Fit Type: Form fitting 
Fit Note: Please do not assume your size, please use our size chart. If in doubt, email questions to contact@desotosport.com. Triathlon apparel is meant to fit next-to-skin. This is to eliminate potential chafing, and unnecessary drag during the swim, bike and run. If you're not comfortable with this type of fit and or are between sizes, we recommend sizing up. Garment will fit the most snug the first time you put it on, it will relax slightly once wet. 
Features and Benefits:
Lightweight, moisture wicking Skin Cooler Octovent™  fabric on front and side panels (see images!)

Skin Cooler 90™

  fabric on back, sleeves and neckline collar for cooling comfort.
Both Skin Cooler fabrics block 90% of UVB rays while lowering body temperature
Aerodynamic race fit
Full-front YKK® zip for easy, on-the-go ventilation 
Bottom zip garage for comfort
3 back pockets to store training/racing essentials
Skin Cooler 90™ sleeves designed for more comfort in the aero position
Strong and durable, yet non-abrasive contrast flat-stitch
Works well for swimming when worn under a wetsuit
Not recommended for repeated use in a chlorinated pool
Made in USA
What makes ours different?
  Our Skin Cooler fiber is designed to feel and perform like silk (from a silkworm).  Through Biomimicry, we took the virtues of this natural fiber and created a synthetic silk.  It will keep you cool in hot weather and cooler when it is wet.  Put it on and you will instantly feel the cool sensation.  Wet it and you will notice a drop in the surface temperature of the skin between 7 and 10 degrees.
A MEDICAL TESTIM0NIAL:  We received this letter from Dermatologist and Mohs Surgeon Dr. Michael Bax.* 
 I am an avid runner and triathlete and I recently discovered your Skin Cooler products, of which I'm a huge fan.  I have been wearing them for a few months now and couldn't be happier.  I am a dermatologist and Mohs surgeon at Roswell Park Cancer Institute in Buffalo, NY.  Every patient I see is plagued by basal cell carcinoma, squamous cell carcinoma, or melanoma.  I recommend your products to my active patients on a daily basis.  It allows them to continue their active lifestyle while protecting themselves from the sun. I find your product to be far superior to all other cooling and sun protective lines.  I truly appreciate your efforts and innovations. 

Michael Bax, MD 
Roswell Park Cancer Institute 
Scott Bieler Clinical Science Center 
Buffalo, New York
***Dr. Bax has no financial investment in De Soto Sport and was not solicited nor compensated in any way for his letter.
Note: No garment should ever be a substitute so we always recommend you wear sunscreen underneath these, and all, products. It is crucial to keep in mind that a sunscreen's (whichever brand you may choose) SPF/UPF rating refers only to its ability to protect skin from UVB radiation. Because we know that UVA damage can be just as insidious, it is essential for the health of your skin that you use a sunscreen that contains the UVA-protecting ingredients of titanium dioxide or zinc oxide.
PRODUCT CODE:  FVSC
---
We Also Recommend
---
Customer Reviews
The best tri top I've ever used
This top is extremely comfortable, form fitting and the compression fabric stays cool and tight. I love that the sleeves (very silky and soft and do not chafe) provide additional sun coverage. I no longer worry about those terrible sunburns on my upper back and behind my arms. The skin cooling fabric does the trick. I love this top so much that I now own three of them (all different color patterns).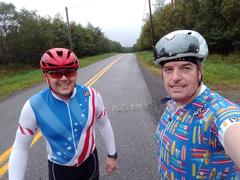 11/04/2020
Anonymous
United States
KIN COOLER FULL ZIP TOP - SHORT SLEEVE*
I've been a De Soto customer well over a decade & I Continue to purchase diverse items because of Emilio's dedication to high quality development & production of innovative materials that provide me with comfortable & efficient apparel for training & race day.
10/28/2020
mark l.
United States
Excellent Jersey
I have several Desoto products and this jersey did not disappoint. The fit and feel are second to none and wash/wear great too. Spend the little extra money over the less expensive options and get Desoto...satisfaction guaranteed.
09/16/2020
Daniel E.
United States
Desoto Skin Cooler top
Desoto product have my full confidence. I've been wearing the products for 12 years now and love everything I've purchased. Additionally the customer service is awesome. The Skin Cooler tips fit great and look even better. My only complaint is there aren't enough choices in design so I could buy more.
07/07/2020
Ronald M.
United States
Skin Cooler Helps
There is heat [**** it up!] and humidity [doh!!] Here is the east [VA] we have both, and i was amazed at how well the jersey worked on rides of 50-75 minutes. Definitely a good purchase--i'll be back for more next year--Ron
MEN'S SIZING INFORMATION IMPERIAL/METRIC
 
Height
Weight
Waist
Chest
Hips
X-Small
< 5'6" in / <168 cm
135 lbs / 61 kg
22"-24" in / 56-61 cm
< 37" in / < 94 cm
Small
5'6"-5'8" in / 168-173 cm
145 lbs / 66 kg
24"-27" in / 61-69 cm
37"-39" in / 94-99 cm

< 34" in  / < 86 cm

Medium
5'9" in / 175-180 cm
165 lbs / 75 kg
27"-32" in / 69-81 cm
39"-42" in / 99-107 cm

34"-38" in  / 86-96 cm

Large
6'0" in / 183-188 cm
195 lbs / 88 kg
32"-35" in / 81-89 cm
42"-45" in / 107-114 cm

38"-42" in / 96-106 cm

X-Large
6'2" in / 191-196 cm
215 lbs / 98 kg
35"-41" in / 89-104 cm
45"-48" in / 114-122 cm

42"-47" in / 106-119 cm

XX-Large
6'5" in / 197 cm+
235 lbs / 107 kg
42" in +  / 105 cm +
49" in + / 123 cm +
48" in +

/ 121 cm +
 

The size chart above should serve as a general guide. If you would like assistance in determining the proper size, please send the following information to contact@desotosport.com.

WEIGHT - Accuracy helps us provide a more accurate size for you.

CHEST - Fullest part of breast, measured as the largest part of circumference right over the pectoral muscle.

WAIST -  Circumference measured at the belly-button line - this is NOT the same as your pants waist size.

HIPS - Circumference measured at the widest point, NOT at your hips where your belt may go. Typically this will measure just a few inches below your hip bones and around the largest part of the glutes.

If you do not have a tape measure and you need something to measure with, use a belt, or smart phone power cord, and a ruler.

 

Liquid error: Could not find asset snippets/size-chart.liquid ,"aggregateRating": { "@type": "AggregateRating", "ratingValue": 4.89, "reviewCount": 38 }