400-Mile™ Cycling Bib Short*
 BB3
This is the bib you want with the original 400-Mile™ pad that has made this our single best-seller. 
Emilio gave these bicycling shorts and bibs the "400-Mile" name from product testing consisting of 400 miles over 4 days. His logic was that many shorts feel fine for 100+ mile rides. The real question is how does that saddle feel when you get on the bike the next morning for another 100 miles...and the next morning? This was the inspiration for the design, the pad, and the name.
 Sizing: Please refer to the size chart button above for sizing guidance. 
Fit Type: Compressive
Fit Note - Customer feedback suggests ordering one size down from your DeSoto Trisuit size. The 400-Mile™ Cycling Bib Short is not as compressive as our Forza Trisuit. If in doubt email us at contact@desotosport.com
New Features:
We sewed the 14mm 400-Mile™ Pad into the short, versus on top of the short. This allows the pad to stretch more, and float; which means it can be used as a race piece in a triathlon. On the bike, the pad stretches with the short and follows your skin as it moves with every pedal stroke, eliminating the friction that can cause irritation or rashes.
Seamless inner thigh eliminates friction against the saddle and thighs
Favorite Features Remain

:
13-panel bib short made of Forza Compressor fabric ensures a perfect fit, and targeted muscle support 
3-inch Mobius™ Comfort Compression leg bands keep shorts in place without excess squeezing (no elastic!)
Liquid Mesh™ bibs straps keep you cool
Midsection Support – Our bibs come up a bit higher on the sides than other brands, to cover and tuck in obliques and abdomen. This provides a slimmer appearance and nice support around the mid-section.
3 pockets: one on each outer thigh and one center back pocket that fit cell phones, smart phones, fuel packets, and most sunglasses
Curvilinear™ seamlines and contrast flatstitch highlight panel construction, create an attractive appearance and are extremely durable
Environmentally-friendly and completely free of solvents
Not recommended for repeated use in a chlorinated pool
Made in USA
WHAT ARE THE DIFFERENCES BETWEEN THE 400-MILE BIB SHORT AND THE MOBIUS CYCLING BIB?
The Fabric:
The 400-Mile Cycling Bib is made of Forza Compressor Fabric with Liftfoil3 center panels - this fabric offers a nice snug compression for the ultimate benefits of muscle support, in delay of onset of fatigue and accelerated recovery.
The Mobius Cycling Bib is made of Mobius Comfort Compression Fabric throughout - this fabric is a little more stretchy, but it still offers some support and compression benefits.
Similarities:
The 400-Mile Pad on both of the above is 14mm thick
Both Bibshorts have the same pockets in 3 locations
Both Bibshorts have same 3-inch leg bands made of Mobius Comfort Compression which eliminates the "sausage leg" squeeze found in other brands.
Inseam lengths:
Note  - Shorter Leg Length than other brands: Have you seen the length of the shorts that riders have been wearing in Europe lately, especially in the Grand Tours? As opposed to most brands here in the states, which come just above the knees, our 400-Mile Shorts are comfortably shorter. Our inseam is similar to those currently used by the pros in the Grand Tours. They have no gripper elastic, yet stay in place and do not bind or squeeze the legs.
     Small: 8.75" (22.23cm)
     Medium: 9.25" (23.5cm)
     Large: 9.75" (24.77cm)
     XLarge: 10.25" (26.04cm)
     XXLarge: 10.75" (27.31cm)
     2XL available in Solid Black only
PRODUCT CODE:  BB3
---
We Also Recommend
---
Customer Reviews
03/31/2020
Alan T.
United States
400 MILE BIBS
Have put on about 200 miles so far. The fit is good to size. Chamois is excellent. Have enjoyed seeing what I can put in pockets. Have even tried Solomon soft water bladder type hydration flasks and that had been interesting. I like the new ideas and will continue to experiment with the new bibs. Extra back pocket is used for billfold that I always carry.
02/18/2020
Anonymous
United States
400 mile dream bibs
Best set of bibs I've ever owned. Great construction and materials. The best thing about it is the ride. Never experience any issues while riding. Keeps right on my body with no riding up while on the saddle. Forget about chamois cream on short rides as you don't need it. I have 3 pairs. Love it!
01/10/2020
John T.
United States
Awesome as usual!
DeSoto's products are of the highest quality. Something that is rare to find in products these days. I am so appreciative of the DeSoto team for taking the time to design and manufacture such top quality products. They are products that I can purchase and know their durability will last years as will the comfort. I cycle everyday of the week so I have a few bibs and jerseys, and other than my team kit, all my bib shorts (and the bulk of my cycling jerseys) are from DeSoto. Thanks again for all you folks do for the community. It is greatly appreciated. Happy New Year and have a great day. Looking forward to the next DeSoto sale. ;-)
01/09/2020
Robert T.
United States
Ultra Comfortable Bibs
So far the bibs have been extremely comfortable. Kind of a bummer that I seem to be in between sizes. A small is too constricting and a medium slightly too loose. The pad inside the bib is every bit as good as everyone said it was. Always nice when Emilio sends out a discount on Slowtwitch :)
10/31/2019
Tim C.
United States
I had no idea riding could be such a pleasure
I'm 51 years old, 32-to-34 inch waist (hey, we have an off-season here in New England!), 6' 2" at 185 pounds with an athletic "spartan" build. The large fits me perfectly. A typical ride would be 25 to 40 miles. I simply can not believe how comfortable this bib short is. I picked one up to replace aging shorts and promptly put it to the test with a 110-mile "Great River Ride" in October. Absolutely no chafing, no rubbing, no mid-cadence adjustments, even the upper is gentle on the body. A motivated male can easily relieve themselves with these on, as well. They are such a pleasure to wear. I've added a second pair so that I always have a clean one to put on, and I'll look to DeSoto first for clothing needs in the future.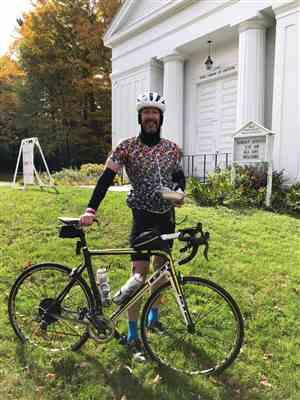 MEN'S SIZING INFORMATION IMPERIAL/METRIC
 
Height
Weight
Waist
Chest
Hips
X-Small
< 5'6" in / <168 cm
135 lbs / 61 kg
22"-24" in / 56-61 cm
< 37" in / < 94 cm
Small
5'6"-5'8" in / 168-173 cm
145 lbs / 66 kg
24"-27" in / 61-69 cm
37"-39" in / 94-99 cm

< 34" in  / < 86 cm

Medium
5'9" in / 175-180 cm
165 lbs / 75 kg
27"-32" in / 69-81 cm
39"-42" in / 99-107 cm

34"-38" in  / 86-96 cm

Large
6'0" in / 183-188 cm
195 lbs / 88 kg
32"-35" in / 81-89 cm
42"-45" in / 107-114 cm

38"-42" in / 96-106 cm

X-Large
6'2" in / 191-196 cm
215 lbs / 98 kg
35"-41" in / 89-104 cm
45"-48" in / 114-122 cm

42"-47" in / 106-119 cm

XX-Large
6'5" in / 197 cm+
235 lbs / 107 kg
42" in +  / 105 cm +
49" in + / 123 cm +
48" in +

/ 121 cm +
 

The size chart above should serve as a general guide. If you would like assistance in determining the proper size, please send the following information to contact@desotosport.com.

WEIGHT - Accuracy helps us provide a more accurate size for you.

CHEST - Fullest part of breast, measured as the largest part of circumference right over the pectoral muscle.

WAIST -  Circumference measured at the belly-button line - this is NOT the same as your pants waist size.

HIPS - Circumference measured at the widest point, NOT at your hips where your belt may go. Typically this will measure just a few inches below your hip bones and around the largest part of the glutes.

If you do not have a tape measure and you need something to measure with, use a belt, or smart phone power cord, and a ruler.

 

Liquid error: Could not find asset snippets/size-chart.liquid ,"aggregateRating": { "@type": "AggregateRating", "ratingValue": 4.91, "reviewCount": 75 }