WOMEN'S "SNEAK-A-POO" RIVIERA FLISUIT™*
WRTTS3
Due to the current overwhelming number of orders, please allow 24 hours from the date of your order for this product to depart from our warehouse. Saturday and Sunday are excluded as we are closed weekends.
Read about the inspiration for this innovation here - Femme  Riviera "Sneak-A-Poo" Trisuit aka "Bathroom Friendly". 
Sizing: Please refer to the size chart button above for guidance on how to achieve the right fit. 
Fit Type: Compressive
Fit Note: Please do not assume your size is the same as previous years, please use our size chart and if in doubt, email us: femme@desotosport.com. Triathlon apparel is meant to fit next-to-skin. This is to eliminate potential chafing, and unnecessary drag during the swim, bike and run. If you're not comfortable with this type of fit and or are between sizes, we recommend sizing up. Garment will fit the most snug the first time you put it on, it will relax slightly once wet. 
Customization offer! - If you would like this suit in a shorter inseam we can make that happen! Place your order, email us at femme@desotosport.com and for an additional $10, we'll customize the inseam of your suit (turn around time in approximately 2 weeks.)
New Features - Under arm seam has been changed - it is now an offset parallel seam to eliminate potential chafing.
Favorite Features Remain:
Femme 6mm Float Pad provides comfort on the bike and goes unnoticed on the run - it's antibacterial, moisture wicking and provides 4-way stretch
Skin Cooler™  fabric which provides UVB sun protection and creates a cooling sensation when wet or with sweat; keeping you cool and comfortable mile after mile

Easy access rear zipper for portaloo stops on the fli! Another De Soto Sport invention! 

Unzip, sit / squat, and pull the panel forward to go

Femme Snakezip™ technology makes re-zipping effortless

Zipper has a full interior lining for comfort, and to eliminate the potential of chafing

Front zipper allows on-the-go ventilation; top zip garage prevents zipper bites
No internal bra because after all, we all have our favorite bra anyway (but we suggest our Micro Bra WMB3)
Reflective logos for increased low-light visibility 
Contrast stitching is durable and provides beautiful body lines
Three pockets - one on the back and one on each back leg for all of your fuel needs!
Leg inseam is long enough to stay in place without "squeezy" grippers
Designed and created by women
Made in the USA
Size XL qualifies for our Biggest Winner promotion. Buy this item at full price and if you need to size down within 2 years we'll give you a 50% discount on a smaller size. Read more here - Biggest Winner 
GREAT NEWS: Sleeved Trisuits are now legal for use in Ironman and 70.3 races, and it remains legal in many other races not owned by WTC. This trisuit was designed for this very purpose, with hydrodynamics as a factor, not just aerodynamics. 
 Inseam lengths:
     Small: 9" (25.5cm)
     Medium: 9.5" (26.75cm)
     Large: 10" (28cm)
     XLarge: 10.5" (29.21cm)
What makes ours different?  Our Skin Cooler fiber is designed to feel and perform like silk (from a silkworm).  Through Biomimicry, we took the virtues of this natural fiber and created a synthetic silk.  It will keep you cool in hot weather and cooler when it is wet.  Put it on and you will instantly feel the cool sensation.  Wet it and you will notice a drop in the surface temperature of the skin between 7 and 10 degrees.
A MEDICAL TESTIM0NIAL:  We received this letter from a respected Dermatologist and Mohs Surgeon:
 I am an avid runner and triathlete and I recently discovered your Skin Cooler products, of which I'm a huge fan.  I have been wearing them for a few months now and couldn't be happier.  I am a dermatologist and Mohs surgeon.   Every patient I see is plagued by basal cell carcinoma, squamous cell carcinoma, or melanoma.  I recommend your products to my active patients on a daily basis.  It allows them to continue their active lifestyle while protecting themselves from the sun. I find your product to be far superior to all other cooling and sun protective lines.  I truly appreciate your efforts and innovations. 
Note:
No garment should ever be a substitute so we always recommend you wear sunscreen underneath these, and all, products. It is crucial to keep in mind that a sunscreen's (whichever brand you may choose) SPF/UPF rating refers only to its ability to protect skin from UVB radiation. Because we know that UVA damage can be just as insidious, it is essential for the health of your skin that you use a sunscreen that contains the UVA-protecting ingredients of titanium dioxide or zinc oxide.
PRODUCT CODE:  WRTTS3
Customer Reviews
10/07/2021
Sophie D.

United States
I recommend this product
A winning suit for IMMD
I purchased this suit primarily for the 6mm pad for my IM race. The peek a boo part was an added benefit. I was unsure of it initially concerns for more seems meaning chaffing, but that wasn't an issue during training and I made sure I used anti chafing balm everywhere for the race. Using the peek a boo during my race was amazing - no issue with the suit not going back in the right place and much much faster than having to undress. The 6mm pad chamois is the perfect combination of padding for long distance without a diaper feeling while running, and the seems are away from the saddle removing any chance of chafing from seams. Absolutely love this suit. Please don't ever take away the 6mm pad option!!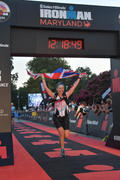 I recommend this product
Most comfortable tri suit ever
After making a rather last minute order for this suit, with custom inseam length, I received this suit so quickly and just in time for my 70.3 race! I'm so happy to say that this suit kept me extremely comfortable from swim to finish line! The saddle comfort was best I've ever had. Not to mention the peace of mind knowing that if needed, I could run to the bathroom without removing a tight and wet one piece suit. I absolutely recommend this suit, cannot say enough great things about it!
06/28/2021
Tom J.

United States
I recommend this product
Best tri suit ever
This is the best tri suit that I have ever used. It fits perfectly and seems fast.