WOMEN'S SKIN COOLER LONG SLEEVE TOP*
Ladies, we built this top to fit like a second skin while providing protection from harmful UV rays, and a cooling sensation when wet. 2 vertical pockets along the spine hold lightweight essentials (gu, id, cc, key) or sponges/ice from aid stations to provide additional cooling.
Sizing:

 
Please refer to the size chart button above for sizing guidance.
Fit Type: Form-fitted

Fit Note: Please do not assume your size is the same as previous years, please use our size chart and if in doubt, email us at: femme@desotosport.com. Triathlon apparel is meant to fit next-to-skin. This is to eliminate potential chafing, and unnecessary drag during the swim, bike and run. If you're not comfortable with this type of fit and or are between sizes, we recommend sizing up. Garment will fit the most snug the first time you put it on, it will relax slightly once wet.
Features and Benefits: 
Skin Cooler 90™ stretch fabric blocks 90% UVB rays while creating a cooling sensation that actually keeps you cooler.
Cooling technology is embedded in the fabric and will NOT wash out, contrast difference to many other "like" products on the market.
Two vertical pockets for nutrition gels, ice, or cold sponges commonly available at aid stations in triathlons and long endurance races.

Pockets line up along your spine and are designed to help cool your body.
The pockets are not designed to carry excessive weight such as water bottles, gel flasks, or any comparable weight.

Offset seams eliminate the potential to chafe.
This is not a compression garment, yet it is supposed to fit snug, for aerodynamic purposes. Though it is designed to be worn alone and performs best that way, you can wear it over or under any triathlon top, tri suit, cycling jersey, golf shirt, or tennis shirt, and you will actually be cooler!
Reflective logos for increased low-light visibility 
The top can double as a warm weather base layer. Please note that the cooling feature will not work as well as intended when layered.
Designed and created by women.
This garment is not designed for repeated use in a chlorinated pool.
Made in the USA
Size XL and 2X-Large qualifies for our Biggest Winner promotion. Buy this item at full price and if you need to size down within 2 years we'll give you a 50% discount on a smaller size. Read more here - Biggest Winner 
Read this nice TIP FROM EMILIO: HOW TO QUICKLY PUT ON A SKIN COOLER LONGSLEEVE TOP! (AN EASY WAY TO PUT ON & REMOVE A TRI TOP) 
What makes ours different?  Our Skin Cooler fiber is designed to feel and perform like silk (from a silkworm).  Through Biomimicry, we took the virtues of this natural fiber and created a synthetic silk.  It will keep you cool in hot weather and cooler when it is wet.  Put it on and you will instantly feel the cool sensation.  Wet it and you will notice a drop in the surface temperature of the skin between 7 and 10 degrees.
A MEDICAL TESTIM0NIAL:  We received this letter from a respected Dermatologist and Mohs Surgeon:
 I am an avid runner and triathlete and I recently discovered your Skin Cooler products, of which I'm a huge fan.  I have been wearing them for a few months now and couldn't be happier.  I am a dermatologist and Mohs surgeon.   Every patient I see is plagued by basal cell carcinoma, squamous cell carcinoma, or melanoma.  I recommend your products to my active patients on a daily basis.  It allows them to continue their active lifestyle while protecting themselves from the sun. I find your product to be far superior to all other cooling and sun protective lines.  I truly appreciate your efforts and innovations.
Note: No garment should ever be a substitute so we always recommend you wear sunscreen underneath these, and all, products. It is crucial to keep in mind that a sunscreen's (whichever brand you may choose) SPF/UPF rating refers only to its ability to protect skin from UVB radiation. Because we know that UVA damage can be just as insidious, it is essential for the health of your skin that you use a sunscreen that contains the UVA-protecting ingredients of titanium dioxide or zinc oxide.
PRODUCT CODE: WLSSC

Customer Reviews
100
reviewers would recommend this product
Write a Review
07/18/2022
Virginia E.

United States
Comfortable and Cool
I have worn this shirt on two hot and humid Florida rides. I felt cool and comfortable. I really enjoy this shirt and would buy another. It fits great too!
01/25/2022
Ma A.

Philippines
I recommend this product
Long Sleeves
I've been a fan of De Soto ever since I got to own one (Forza) last year and it really was the best tri suit I had. However, I quite disappointed that it was not among the available trisuits now as I think it's been discontinued. I bought this skin cooler long sleeves top to try out because of its promise to keep the skin cooler even when it's already hot. This is true since I noticed that my skin was cooler than normal. But my purpose is more of ensuring my skin does not get burned too much while I swim or bike. I was only able to use it for swim as of this writing and yes it served the purpose I intended it for. It's also very light to the skin but does not have the same compression that I was looking for like that of the Forza. The backside also would bunch up while on swim so I guess I should buy a full suit if I don't want that happening. I do recommend the product but if shipping to a country like the Philippines, the shipping can be really expensive as De Soto uses Fedex and Fedex has additional charges here in my country at around $12 dollars and I think there are no other option that can lower the shipping. Overall the shipping costs almost the same as the items, which is sad. I still gave 4 stars to improve on the compression and tightness that might lessen the bunching of the backside while swimming. No stars were removed for the shipping issue as it does not reflect on the item but on the options in general but still worth mentioning.
01/16/2022
Kendra M.

Canada
I recommend this product
Love the protection!
This is my 2nd order of this style of shirts. My first order had 1 long sleeve and I was in a high speed crash which destroyed it so I was glad to find the same shirt was still on your website!! While others are slathering on sunscreen, I'm wearing my shirts that protect me in the most (literally) blistering hot days! Thank you! I love the cut, too! I'm a medium in cycling which lines up perfectly with your medium shirts of this style. Btw, do you have an IG page I can promote you on?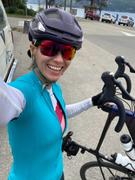 Thanks for the feedback Kendra. Glad to hear you have recovered and are back out riding again! Yes, our IG handle is desoto_sport. Please post and tag us!
08/19/2021
Anonymous

United States
Great shirt!
Love how the shirt cools & protects from the sun…just wish there were more color/print options so some similar to mens.
08/13/2021
Anonymous

United States
I recommend this product
stayed cool
I used it during the heat and the entire time my arms felt cool. I did wear a sleeveless scoop neck top over it because I was self-conscious about it being tight. I am 77 so you might understand.