Please Note - EXCHANGES ACCEPTED, BUT NO REFUNDS. These are discontinued models at discounted prices, therefore we will accept exchanges within 3 days of receiving it, for a different sizes or model, based on availability. We permit this if you have only tried the product on for fit, and have not exercised in it.
 FFT
This Forza Flisuit is sleeveless and has the Fli-fly™ for quick and discreet bathroom stops on-the-fly.
Sizing: Please refer to the size chart button above for sizing guidance. Extended sizing now available - XXL 
Fit Type: Compressive
Fit Note:  If you have a long torso, or if you are tall and lean, and in search of a one-piece trisuit, this is the one for you. Please do not assume your size, please use our size chart. If in doubt, email questions to contact@desotosport.com. Triathlon apparel is meant to fit next-to-skin. This is to eliminate potential chafing, and unnecessary drag during the swim, bike and run. If you're not comfortable with this type of fit and or are between sizes, we recommend sizing up. Garment will fit the most snug the first time you put it on, it will relax slightly once wet.

New Features:
Fli-fly™

 

hidden fly just above the pad, in front for quick on-the-fly bathroom "relief."  You no longer need to unzip!
Features and Benefits:
Upper body made of innovative Skin Cooler90™ fabric for UVB 90 sun protection, and a cooing sensation when wet
Lower body made of Forza Compressor fabric and our new 3-inch Mobius™ Comfort Compression leg-bands that offer compression without tight constriction
4mm Clasico Integrate Pad provides comfort on the bike and goes unnoticed on the run
Solid black Liftfoil3 center panels provide comfort and durability
16-inch YKK® front zipper for on-the-go ventilation, top zipper garage eliminates zipper bites 
5 pocket fit all your training and racing needs
Curvilinear™ seamlines, and contrast flatstitch offer support, comfort and aerodynamic advantage
Swim, bike, and run in comfort without changing. Race with it under your wetsuit!
Disclaimer: swimming in murky water, including ponds, streams, bays, etc. may cause staining
This environmentally-friendly innovation is completely free of solvents and the dyes used have no VOC.
Not recommended for repeated use in a chlorinated pool
Made in USA 
Inseam lengths:
Small: 9.5" (24.13cm)
Medium: 10" (25.40cm)
Large: 10.5" (26.67cm)
XLarge: 11" (27.94cm)
2X-Large: 11.5" (29.21cm)
Inseam Note  - Shorter Leg Length than other brands: Have you seen the length of the shorts that riders have been wearing in Europe lately, especially in the Grand Tours? As opposed to most brands here in the states, which come just above the knees, our shorts are comfortably shorter. Our inseam is similar to those currently used by the pros in the Grand Tours. They have no gripper elastic, yet stay in place and do not bind or squeeze the legs, which is crucial once you get to the run segment of a triathlon.
What makes ours different?  Our Skin Cooler fiber is designed to feel and perform like silk (from a silkworm). Through Biomimicry, we took the virtues of this natural fiber and created a synthetic silk. It will keep you cool in hot weather and cooler when it is wet. Put it on and you will instantly feel the cool sensation.  Wet it and you will notice a drop in the surface temperature of the skin between 7 and 10 degrees.
A MEDICAL TESTIM0NIAL:  We received this letter from a respected Dermatologist and Mohs Surgeon:
 I am an avid runner and triathlete and I recently discovered your Skin Cooler products, of which I'm a huge fan.  I have been wearing them for a few months now and couldn't be happier.  I am a dermatologist and Mohs surgeon.   Every patient I see is plagued by basal cell carcinoma, squamous cell carcinoma, or melanoma.  I recommend your products to my active patients on a daily basis.  It allows them to continue their active lifestyle while protecting themselves from the sun. I find your product to be far superior to all other cooling and sun protective lines.  I truly appreciate your efforts and innovations. 
Note: No garment should ever be a substitute so we always recommend you wear sunscreen underneath these, and all, products. It is crucial to keep in mind that a sunscreen's (whichever brand you may choose) SPF/UPF rating refers only to its ability to protect skin from UVB radiation. Because we know that UVA damage can be just as insidious, it is essential for the health of your skin that you use a sunscreen that contains the UVA-protecting ingredients of titanium dioxide or zinc oxide.
PRODUCT CODE:  FFT
Customer Reviews
10/13/2019
Anonymous

United States
Forza Flisuit review
Absolutely fantastic suit!!! The materials and fit is amazing. If I had one issue it would be that the fly should have a little more material overlap. Bending over or leaning into the aero position can cause the fly to "pucker" sometimes and I would feel more comfortable with a little more overlap and coverage
Solid Kit, very comfortable and great storage
I have the Riviera Fli Suit and decided to try the Forza sleeveless. First off - they are both very high quality materials and craftsmanship. As the descriptions say, the Forza is a bit larger on the top and thinner material up top too. I love them both - the strength of the Forza is the comfort, light material, and huge back pocket. I have not tried to swim in this, but i imagine your need a swim skin as the back pocket would create drag. However, that back pocket is particularly useful on longer distances when you need to carry more nutrition. The Riviera - well it's plain awesome. I like the heavier compression up top (older athlete, so this holds things in place better). It has a thicker pad also which is better for long rides and did not bother me at all on runs. I should pile on about the 'Fli', but that is pretty self-evident as a stellar feature in both suits. I am in between sizes. 5'4", 140# and wider hips than average. The charts say my hips are a medium and small up top. I bought a small in both and the legs are snug (though comfortable) but the top fits pretty well. After several long rides in both, i lean toward the Riviera because of the smaller top, but they are both excellent kits. Too much to wish for to see a Riviera sleeveless? Either way, you wont be disappointed!
07/26/2019
Peter L.

United States
performed great at Chattanooga 70.3
The trisuit is the best ensemble I've raced with thus far (this was my third 70.3 and numerous olympics and sprints also). The bike was just as comfortable as wearing any of my fully padded bike shorts. The run was very comfortable also. No zipper chafe!! The bonus was getting several comments from other athletes on the stylish design.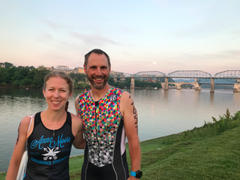 Better Than Expected
I did my research before buying the Forza Flisuit. Every review that I was able to find gave it the highest scores. Based on what I read, I expected a high quality performance tri suit and De Soto did not disappoint. It fits like a glove. The high quality can be seen and felt. I am super impressed with the 5 pockets that allow me to store everything I need as well as the convenience slot that allows me to use the bathroom without having to pull the top down. I've worn it twice in races and PRd both. This is by far the best trisuit I've ever owned. And by the way, it looks good too. Many people noticed the cool pattern at my last race.