T1 First Wave Pullover*
 FWP3
The First Wave provides ultimate comfort and eliminates restrictions often found in one-piece wetsuits. This is why the T1 First Wave is a triathlete's First Choice!
The two-piece design of the T1 Wetsuits offers more comfort and less restriction. The top and bottom are not attached. This means you have much more freedom of movement and there is no "torso-rubber stretch" or shoulder fatigue that occurs with one-piece wetsuits. All T1 models are sold as separates for a customized and personal fit. With up to seven sizes of tops and bottoms, you have 49 possible size combinations from which to choose. Other features we innovated many years ago include lower necklines and thicker rubber in the legs and hips to help float the largest bones and muscles in the body. More floatation here means more speed. T1 Wetsuits are not filled with gimmicks, just physics.

Sizing : Please refer to the size chart button above for sizing guidance based on gender. If in doubt, email questions to contact@desotosport.com. 
New Features:
Zipper is lighter weight and corrosion resistant
Less-toxic bonding agent for people with skin sensitivities
Favorite Features Remain:
Flexible 2mm body and arms with a lower neckline for comfort
BIO-STROKE design puts your arms into a forward rotated shoulder position for a more efficient swim stroke
YKK® custom zipper is small, lightweight, and makes removal easier than ever.
GreenGoma™ #9 Rubber with Super Composite Skin makes the First Wave the warmest, fastest, most durable, flexible, buoyant, and the most comfortable wetsuit in the world today.
Lined with 4-Way stretch Nylon Lycra® for comfort and to minimize chafing
Seams are glued and blind-stitched, making them more durable than the rubber itself
Sleek graphics, no gimmicks
Sold as separates for a true customized fit
Sustainability is extremely important to De Soto, click here to learn how we are making a difference
Chlorine resistant treatment, but not recommend for repeated use in chlorinated water.
Proper swim stroke includes swimming with your head slightly tilted up. Imagine how your head would be if you were reaching for something in an upper shelf of a cabinet.  That said, the snug part may require a certain "getting use to."  The other part to know is that it will also relax a little bit over time by wearing it.  It is important that the neck be snug so that water does not freely flow in while swimming.
Whether you like to swim for exercise or are on the swim course of a Triathlon, T1 Wetsuits offer you speed, comfort and buoyancy that will make swimming pure pleasure!
---
We Also Recommend
---
Customer Reviews
11/17/2020
JoeHowell
United States
I recommend this product
Great Suit, Just Gets Better
I just received my new T1 First Wave wetsuit. This is probably the 4th or 5th DeSoto T1 I have owned over the past 20 plus years. I have loved my T1 suits, but was amazed with how great it is to swim in a new one. The fit, the feel of the Green Goma and just the overall quality are outstanding. My ocean swimming buddies who have bought a DeSoto wetsuit this season on my recommendation are now true believers.. Thx DeSoto for a great product and for making it better and better over the years. Joe Howell Santa Barbara CA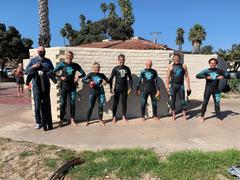 10/16/2020
PEAMAN P.
United States
09/08/2020
Jordan L.
United States
Yes, a 2 piece works better!
As with the matching bib, you've probably seen all of the gimmicks and "technology" going into other high-end suits. You don't need it, I sure didn't. First of all, my big sticking points were that I thought water could get in a 2 piece and T1 would be slow. Desoto wouldn't have kept this for a single season if that was an issue. On the windy, chilly Oregon coast the only worry I had was sharks. If anything,it allows a bit of excess body heat to find a way out. The BEST one piece suits just can't vent. Coming from a Roka maverick pro and X, both of which I liked, nothing but upsides. I've been a big fan of this company through a long weight loss and health transformation (I train in nothing else at this point) and the T1 line is no exception. Just plain WORKS. No big marketing campaign, no high profile paid endorsements, just a well designed suit that gets minor tweaks every now and then based on real feedback.
07/31/2020
Barbara K.
United States
Great product, great service
LOVING my new T1 top - together with the bibjohn it has been a great experience. De Soto was super helpful in making sure I got the right size. Compared with my old wetsuit, I was quite comfortable recently in 58-degree water and able to enjoy a longer swim that I otherwise would have done - The shoulder and neck freedom also GREAT compared with the old wetsuit - And, the buoyancy was incredible - my 400-yard splits averaged 5 seconds faster than a skin swim! Highly recommend to anyone looking for a quality experience.
02/17/2020
Aaron B.
Canada
Superb product, service, and experience
This made up half of my first wetsuit purchase. As an extremely tall and slender triathlete, there really weren't many options out there on the market. To make matters worse, for whatever reason, the majority of mainstream wetsuit companies have absolutely horrendous customer service. No fewer than three companies completely ignored several voicemails and emails. Enter De Soto. I sent Emilio and the team a similar message to other vendors, but what I got back was astoundingly good service. My measurements, needs, and goals were confirmed ahead of time, and I was off to the races. And race I have, with about six or seven triathlons now under my belt. It was obvious to me the moment I put it on what I'd gotten in terms of value. Not only is it an extremely stylish suit, it's rock solid in terms of quality and buoyancy. With questions and feedback, the entire team has been super responsive both by phone and email. They stand behind their superb products with even higher quality service. There's a reason the feedback here is unanimously five stars. The innovation, service, and quality of product will impress you; I guarantee it... and so do they!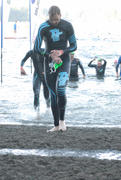 T1 WETSUIT SIZING INFORMATION IMPERIAL / METRIC
| | | | | | | | | |
| --- | --- | --- | --- | --- | --- | --- | --- | --- |
| Size | Height | Weight | Male Chest | Male Waist | Male Hips | Female Bust | Female Waist | Female Hips |
| 1 | 4'9"- 5'3"             145 - 160 cm | 90 - 105 lbs            41 - 48 kg | 29" - 31"                 74 cm - 79 cm | 27" or less             69 cm or less | 33" or less            84 cm or less | 28" - 31"                 71 cm - 79 cm | 26" or less              66 cm or less | 34" or less              87 cm or less |
| 2 | 5'2" - 5'6"             157 - 168 cm | 105 - 125 lbs          48 - 57 kg | 30" - 33"                76 cm - 84 cm | 27" - 29"                69 cm - 75cm | 34" -35"                  85 cm -90 cm | 30" - 33"                 76 cm - 84 cm | 27" - 28"                 67 cm - 72 cm | 35" - 36"                 88 cm - 92 cm |
| 3 | 5'4" - 5'8"            163 - 173 cm | 125 - 150 lbs          57 - 68 kg | 33" - 37"                83 cm - 94 cm | 30" - 31"                76 cm - 81 cm | 36"- 37"                  91 cm - 94cm | 33" - 37"                 81 cm - 94 cm | 29" -  30"                73 cm - 76 cm | 37" - 38"                 93 cm - 97 cm |
| 4 | 5'7" - 5'10"          170 - 178 cm | 150 - 165 lbs           68 - 75 kg | 37" - 43"                94 cm - 109 cm | 32" - 34"                82 cm - 88cm | 38" - 39"                 96 cm - 100 cm | 37" - 42"                 94 cm - 107 cm | 31" - 33"                 77 cm - 84 cm | 39" - 40"                98 cm - 103 cm |
| 5 | 5'9" - 6'4"            175 - 193 cm | 165 - 190 lbs          75 - 86 kg | 43" - 45"              109 cm - 114 cm | 35" -  36"                89 cm - 93cm | 40" - 43"               101 cm - 110 cm | 42" - 45"               107 cm - 114 cm | 34" - 36"                85 cm - 92 cm | 41" - 42"               104 cm - 107 cm |
| 6 | 6' - 6'6"                183 - 198 cm | 190 - 220 lbs          86 - 100 kg | 45" - 48"              114 cm - 122 cm |  37" - 40"                94 cm - 101 cm | 44" - 47"               111 cm - 119 cm | 44" - 46"               112 cm - 117 cm | 37" - 40"          94 cm - 102 cm | 43" - 44"               108 cm - 116cm |
| 7 | 6'2" - 6'8"            188 - 203 cm | 220 - 265 lbs        100 - 120 kg | 48" +  123 cm + | >40" +   103 cm + | >47" +   120 cm + | 46" +  118 cm + | 41"+  103 cm + | 46" + 117 cm + |
 

The size chart above should serve as a general guide. If you would like assistance in determining the proper size, please send the following information to contact@desotosport.com.

WEIGHT - Accuracy helps us provide a more accurate size for you.

CHEST - Fullest part of breast, measured as the largest part of circumference right over the pectoral muscle.

WAIST -  Circumference measured at the belly-button line - this is NOT the same as your pants waist size.

HIPS - Circumference measured at the widest point, NOT at your hips where your belt may go. Typically this will measure just a few inches below your hip bones and around the largest part of the glutes.

 

If you do not have a tape measure and you need something to measure with, use a belt, or smart phone power cord, and a ruler.

Liquid error: Could not find asset snippets/size-chart.liquid ,"aggregateRating": { "@type": "AggregateRating", "ratingValue": 5, "reviewCount": 15 }